Agile methods

The agile methodology
This approach was popularized from 2001 by the Manifesto for Agile Software Development. The four values ​​and twelve principles adopted in this manifesto come from a wide range of methods including Scrum and eXtreme Programming. Since then, the methods which are part of the philosophy of this manifesto have been called "agile methods".
Agile methods are intended to be more pragmatic than traditional methods, involve the requester (client) as much as possible and allow great responsiveness to their requests. They are based on an iterative, incremental and adaptive development cycle.
The web was also built like this, by iteration in an incremental and adaptive way.
Agile development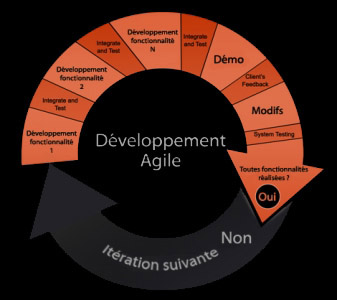 Understand agile methods
To begin with, here is the Agile manifesto , a text that fits on a page written by seventeen experts in the development of computer applications. This manifesto has had a large impact on organizations and the IT community.
If you want to understand the SCRUM method, the creators have created "The Scrum Guide", an easy to understand 14 page pdf.
Here is also a 6 pages article (pdf) about Extrem programming
In organizations
Today, agile methods are used by many companies in the development of projects.
Why this activity is fascinating

The most important point for me in our jobs is to be passionate. To do what we love. ... Read
Company


61
GTD method

The GTD Method is the acronym for Getting Things Done. It is a method of organization and productivity. This method has been very successful in the entrepreneurial world. ... Read
Productivity


153